Kashindi:
Hi, Aletta welcome to Namambe I am pleased to have you on the Show.
1.You have a very good name, what does it mean and from which Language was it derived.
And by the way do you also have a traditional name?
Thank you :)
Well, I heard it's derived from a couple of languages, but in Italian it apparently means 'little wing'.
And yes, I do have a traditional name. Two actually: Netumbo and Ndapeua. Ndapeua is spelled with a 'u' instead of the usual 'w'.
2. That is very interesting I am getting more curious. What about your family name 'Ngaikukuete' did they also tell you what it means?
I'm glad you ask me this, I have had a chance to ask my grandfather about it before he died in 2009.
Well according to him, it means that if you get hungry, you're likely to go into the nearest bush to catch something for a meal.
3. Great to hear that and by the way what make you tick?
Simple things really. A child's voice tone; grateful expression on someone's face;
Smiles; laughter; sunrise… and many little random things and events like that.
4. I like that but before we go further it would be appropriate at this stage to tell us more about yourself?
I grew up in Onamulunga and Ondangwa.
I attended my grade 1 – 4 at Oniipa Lower Primary School from 1987 – 1990; then I went for one year (1991) to People's Primary School in Windhoek for my grade 5. I then completed my primary education at the International Primary School in Ongwediva.
I attended my high school in Tsumeb at Etosha Secondary School between 1994 – 1998.
In 1999 I started with my B.Ed degree at the University of Namibia and completed it in 2002; I then went back to the north in 2003 and got employed as a teacher at Gabriel Taapopi Senior Secondary School (GTSSS) in Ongwediva where I taught for 10 years till 2012.
While teaching at GTSSS, I took a year off and went on study leave from October 2010 – September 2011 because I got a Scholarship from the Ministry of Education under the Namibian Government Scholarship Training Programme. So I went to Bristol in England to do my postgraduate degree in Education, Technology and Society (a Masters of Science programme under the Graduate School of Education at the university).
From 2013 till present I started working for NAMDEB at Oranjemund Private School in Oranjemund.
5. That's amazing, having learned all that if you are given power to change something in our beautiful country, what would it be and why?
The power to change and transform our education system to something that catches up to where the children are today. I believe I have that power already to some degree, but given a voice to help others realise the need to transform and revolutionize the current system, I believe it will increase the army to get that to happen. Meaning once others also become aware of the need to transform the education system then we'll become more and thus will make the transformation an easier process.
Our children are bored today with our current system and not just in Namibia but in many countries except maybe Finland, but I hope that this is probably just for now.
I believe our education system is working for a very few, but we need to think about the many who just need something that feeds their drive. Our children are digital natives and way ahead of us especially when it comes to technology. We're the ones to catch up still; and what better way than to use the very tool that gets them off school work today? Technology. We need to harness its power to meet at middle ground sooner than later before these children completely slip out of our hands.
6) If your memory serves you well please tell me two or three names of people that you recalled having taught you in Grade 1 and in Grade 12. 
Here I would need my grade 1 classmates to help me out. I was quite young in grade 1 (4 yrs), but I remember a Meme Maria who sadly passed away a few years ago. In grade 12, that's easier as it's more recent. So I remember all of them: e.g. Ms Tietz, Mrs Nolte, Mrs Lourense, Mr Scholtz who was also my hostel superintendent.
7. What is your favourite colour?
At the moment grey. I hope one day to have an absolute colour like black or white.
8. What do you like doing in your spare time?
Reading and rehearsing with the school choir. 
9. Why do you think there are so many cases of gender-based violence in our country?
That question I've been asking myself as well for a while now as the whole issue around that still bemuses me.
Anyway, I think it's probably largely influenced by the person's upbringing, the environment where the men who are committing these crimes grew up. I mentioned men because according to my observation, it's mostly them committing these horrendous crimes; and the majority of them according to media reports originating mostly from the central north of the country.
Perhaps they were not taught how to effectively manage their anger and control their emotions. Any form of Education including emotional intelligence I believe should start at home. Therefore I strongly feel that it is very important for parents to actively get involved in the upbringing of their children. I also believe that neglect begins during the crucial years in a child's growth and development – and these are the first years till they've at least reached the age of 18. 
And of course we can't forget that as humans we have three components: the body, the soul (emotions, thoughts) and the spirit. We often feed the first two and neglect the most important one which is the spirit. This is just to say, these crimes and any crime for that matter is derived from pure evil as well; Moral deprivation.
10. Who is your role model?
I don't just have one. I have a couple. Some people I look up to for upbringing their children in an exemplary manner as well as the advice their offer such as my mom, brothers, cousins, aunts and uncles;
Some inspire me to do better to keep working harder, to strive for more, for example my supervisors at work, some of my colleagues and my friends. So in many I find something to emulate. I find inspiration in many places. 
11. When last have you been excited and why?
Today. I got to speak to a friend who just told me something we've been praying and hoping for about came through. The news got me really excited.
12. Do you have any moment of regret in your life?
Any moment of regrets I had must've turned out for the good by now. I remember them if I'm confronted with a similar situation, but at the moment. I cannot say I never had any. I honestly just can't think of one now.
13. Who is your favourite singer?
Michael Jackson
14. What is your favourite song?
Man In The Mirror
15. What is the title of the last book that you did read for pleasure?
At the moment I'm busy reading War Room by Alex and Stephen Kendrick.
16. What would you like to tell the youth in general?
We need each other to help keep developing our country and our continent. So let us be not just physically present but holistically. Strive to always educate yourself even if you're outside the four walls of your formal education classroom. Keep reading and engage with those that share the same passion with you. Simplify your life and remove whatever it is that is making you lose your focus. Watch less TV!
17. What do you like most about social media networks?
A great modern way of communication and education. I love it! Earlier you asked me if I were given power to change something in our country; this is a great technology to go about it. It allows us to be authors of information as well and sharing this information and engaging in ways to bring about change. It has brought the world in one global village and if used right, it has the power to help shape our planet into one which our future generations would be proud to be living in.
18. Aletta you have shared very important things during this interview so it would be appropriate to ask you to tell us before we end this interview about your biological parents as well as your gods parents because it is likely that both have played a pivotal role in your personal development. And talking about gods parents are they still relevant today?
You ask me about my parents as well as the role of godparents today, I would say that both, biological as well as my godparents played a pivotal role in my upbringing; especially in my spiritual growth. My parents grew up both loving God very much and my god parents happen to share the same faith (Christianity) as my biological parents. Growing up in an environment like that gave me not just a sense of purpose and always belonging here on earth but also a sense of fear – in a loving way that while we're out here, surrounded by the most fearful darkness, there is greater light, greater love, love that goes beyond human comprehension. This gives me hope everyday, just knowing that this is not it and that even after our bodies and the environment around us wears away and it will, that our spirits will live on.
This is where god parents come in – to help walk with us that spiritual journey to help us grow spiritually. It's beautiful to think that as our physical bodies wear out our spirit is being renewed everyday. 
This increases morality and love within humanity and a lot of the evil we see will start to reduce as love does indeed conquer all. We all understand this. I love a quote I once read: 'God is Love and Love is real'.
So yes, the role of god parenting is important today still – although today it's largely neglected and needs to be revived once more. Biological parents should then ensure they choose just the right people to help mentor their children's spiritual walk while here on earth. This for me forms the basis of the highest level of emotional intelligence. With all that is going on around us, especially the negativity, we need guidance to maintain our sanity. Also, eternity is forever and we need just the right people by our side to help us prepare for it. This world is not all there is and life does not end here as some might want to believe.
19. You said you enjoy training a choir. In brief what type of songs do choirs sing and how does one train people who do not know how to sing?
Hahaha… Well, I usually only rehearse with those who have already been singing – those who can sing. By that I mean, those who can pitch a note. It just makes my job easier that way. The ones who don't know how to sing at all, I would say, they can start out by singing along to a Taylor Swift tune while in the shower. (kidding).
We mostly sing African traditional songs in acapella. I used to be part of the UNAM Choir which for me is the best choir in the world. (LOL). I actually mean it. So that helped me to establish my school choir to be able to sing the way they are today.
20. Is there any other thing that you would like share with us?
I'm grateful and honoured to be an interviewee on this platform. Thank you so much.
Relevant YouTube links:
UNAM Choir and GT Choir Rehearsing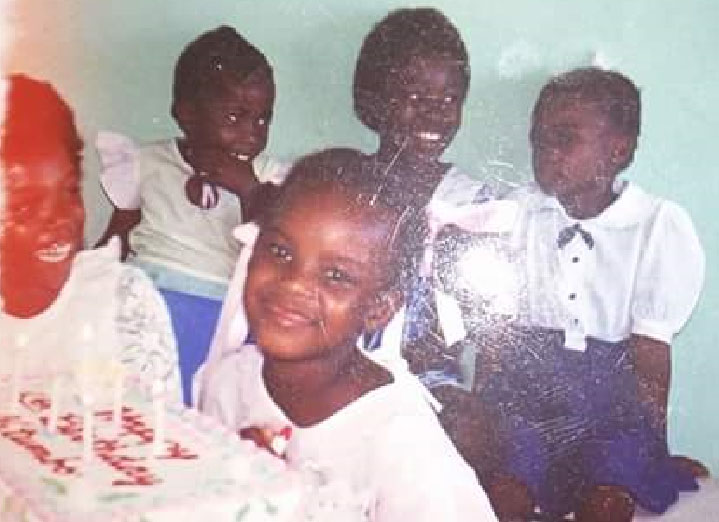 Aletta's 6th Birthday Anniversary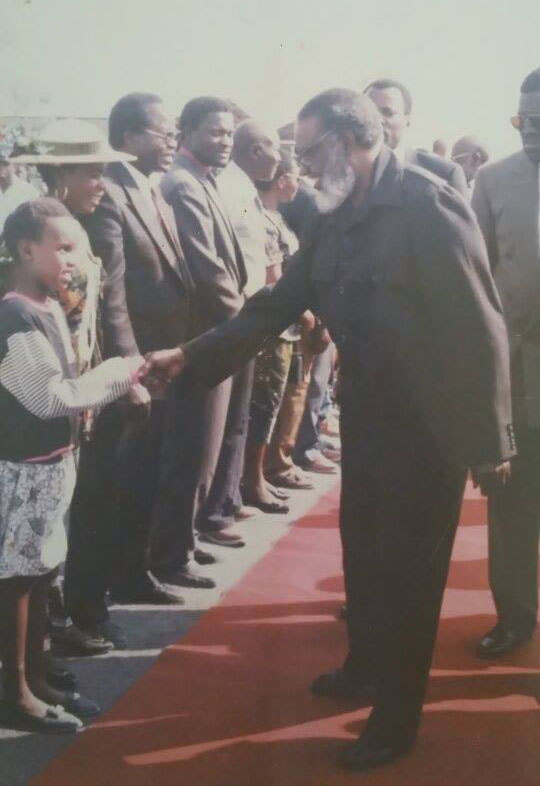 Aletta being greeting by H.E Dr. Sam Nujoma at Ondangwa Airport in 1992. Apparently he just followed his
late father who went to take photos and she just joined the queue of those who were waiting at the airport to greet Dr. Nujoma. She was 9 years old that time.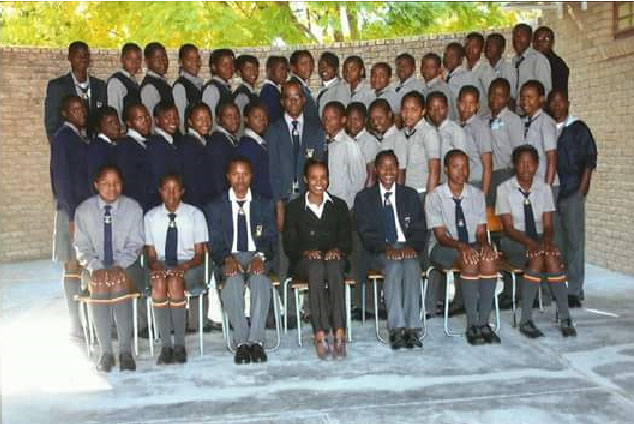 Aletta's class at Gabriel Taapopi Secondary School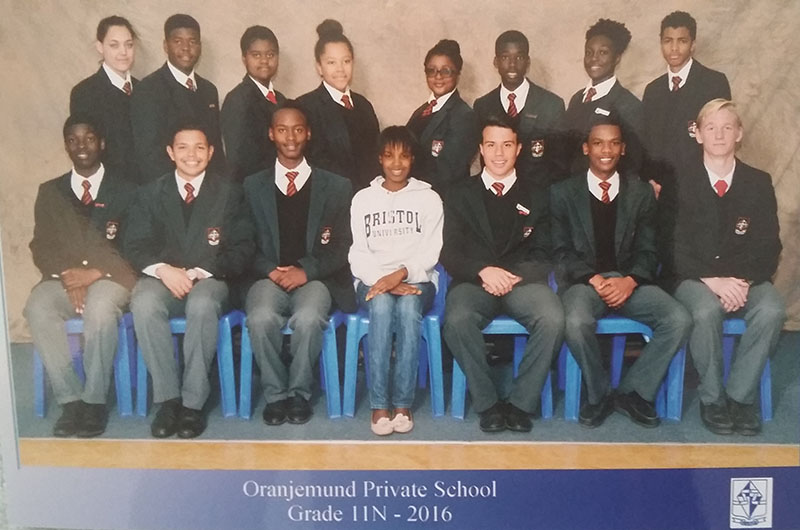 Alleta's class at Oranjemund Private School (2016)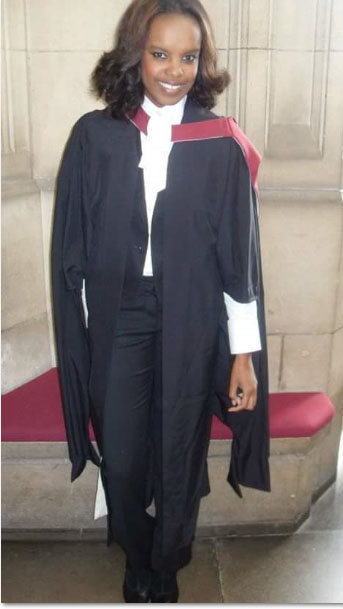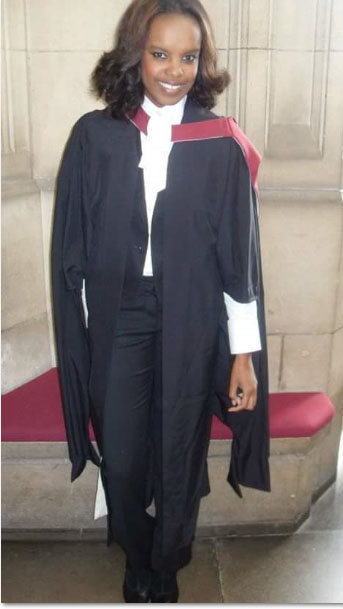 2012 MSc graduation at the University of Bristol, UK
Subscribe to our free newsletter.
Interview posted on 04 April 2023 Tuyeimo welcome to Namambe, I am excited to have you on the Show.  I came across your name both online and offline countless times which made me curious to learn more about you, since the contribution that you are making to society, figuratively speaking is as good as building […]